ICRS 2012 Facts
Dates: 9 - 13 July 2012
Venue: Cairns Convention Centre, Cairns, Queensland, Australia
Expected Delegate Numbers: 2,500
Expected Number of Countries: 80
Number of Plenary Speakers: 9

This edition...

ICRS 2012 Scientific Field Trips within the Great Barrier Reef

As well as attending ICRS 2012, we hope you will be able to participate in one of the Scientific Field Trips that will be taking place both before and after ICRS 2012. These trips are designed to provide insight into the Great Barrier Reef's coral reefs and their management. Field trips vary from one to four days in length.

Two of the Field Trips already have their programs finalised, so visit the website to find out more. (Please note that bookings can be made when ICRS 2012 registration opens, 1 August 2011.)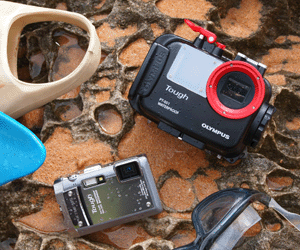 Win Underwater Photographic Gear from Olympus!



Olympus is proud to sponsor the ICRS 2012 Photographic Competition. Full details about this competition will be available on the website soon but for your chance to win the underwater photographic equipment from Olympus valued at nearly $1,000, we wanted to give you advanced notice to be ready with your best images!
Competition opens 1 August 2011.
Entry is free and open to all registered delegates of ICRS 2012.
The judging will include professional photographers and marine scientists.
All submissions must be high resolution digital jpeg files to be submitted online.
The 6 Categories are:
Scientific Image
Images of research in action or scientific images, including microscopy.
Macro
Any small wild subjects taken underwater, with a picture area of no more than 5" x 7" (12.7cm x 17.78cm).
Wide-Angle Underwater Reef scapes
Scenic views of coral reef environments including schools of fish.
Animal Portraits
An image of one marine animal / big invertebrate.
Animal Behaviour
Interesting animal behaviour being displayed.
People and the Reef
Divers, fishers, traditional hunting - it's all about people depending on healthy coral reefs.
Would you like to host a meeting alongside ICRS 2012?

The ICRS 21012 Organising Committee welcomes the arrangement of meetings and functions by your society or organisation, to take place in association with ICRS 2012.

Make your booking early to avoid disappointment by completing and submitting the ICRS 2012 Meeting Booking Room Form. Exhibition Booths Available

The exhibition booths at the Symposium will be the major networking arena for delegates, sponsors and exhibitors. Recruit new customers and strengthen relationships with existing clients; mix informally with scientists from around the world; capture many of the decision makers in your market in a short time; and receive immediate feedback about new products and latest developments.

If you are:
An Organisation that provides equipment, tools and supplies to the ocean technology and science industries;
An Organisation that services the marine sciences and offshore oceanographic industries;
An Academic institution with education and research programs related to coral reef science;
A Government Department with activities in climate change, ocean policy, oceanography and resources;
A Non-Governmental Organisation with conservation, management and research interests in the ocean; or
A Scientific Publisher,
we invite you to read the Prospectus and consider exhibiting at ICRS 2012. To secure your booth, please complete the ICRS 2012 Exhibition Application Form.

To view the list of organisations already confirmed as attending please visit the website.

Visit www.icrs2012.com to view the floorplan.

Please contact Fallon Smith, ICRS 2012 Exhibition Manager if you have any queries:
T: +61 (2) 9254 5000
F: +61 (2) 9251 3552
E: sponsorship@icrs2012.com
| | |
| --- | --- |
| | The Queensland Government sponsorship is funded by the Department of the Premier and Cabinet; Department of Employment, Economic Development and Innovation; Department of Education and Training; Department of Environment and Resource Management, and Department of Transport and Main Roads. |