This edition...

Call for abstracts close 1 October

The Organising Committee invites you to submit an abstract for oral or poster presentation at ICRS 2012.
The call for abstracts must close Saturday 1 October 2011.
Abstracts can only be submitted online. Submissions by post, email or fax cannot be accepted.
Grant applications open

The ICRS 2012 Organising Committee is pleased to announce grant opportunities to attend ICRS 2012. Select this link to see the current grant opportunities, eligibility information and application form. Thank you to those organisations currently offering grants: the Australian Coral Reef Society, the International Society for Coral Reef Studies and The Nature Conservancy. Meet four of our Plenary speakers

There will be nine Plenary speakers at ICRS 2012. In this newsletter we profile four.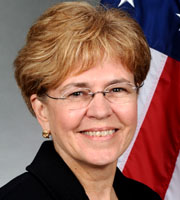 Jane Lubchenco
Under Secretary of Commerce for Oceans and Atmosphere and NOAA Administrator, USA
From Science to Policy: Using Science to Inform Coral Reef Conservation and Management
On March 20, 2009 Jane Lubchenco was sworn in as the ninth and first woman Administrator of the National Oceanic and Atmospheric Administration (NOAA), an agency of the U.S. Department of Commerce. Raised in Denver, Colorado, Lubchenco received a BA in biology from Colorado College, a Masters in zoology from the University of Washington and a PhD in ecology from Harvard University. Lubchenco has studied marine ecosystems around the world and championed the importance of science and its relevance to policy making and human well-being. Her scientific expertise includes oceans, climate change, and interactions between the environment and human well-being. While teaching at Harvard (1975-1977) and Oregon State University (1977-2009), she was actively engaged in discovery, synthesis, communication, and application of scientific knowledge.
A former president of the American Association for the Advancement of Science (AAAS), the International Council for Science and the Ecological Society of America, she served 10 years on the National Science Board (Board of Directors for the National Science Foundation). From 1999-2009 she led PISCO, a large 4-university, interdisciplinary team of scientists investigating the large marine ecosystem along the coasts of Washington, Oregon and California. Lubchenco co-founded three organizations that communicate scientific knowledge to the public, policy makers, the media and industry and also served on the Pew Oceans Commission, the Joint Oceans Commission Initiative, the Aspen Institute Arctic Commission and the Council of Advisors for Google Ocean.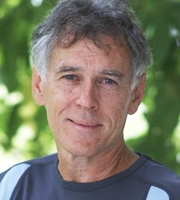 Geoffrey Jones
James Cook University, Australia
Marine Reserves: Importance of Local Connectivity for Fish, Fishers and Fisheries
Geoff Jones is a Professor in the School of Marine and Tropical Biology and a member of the ARC Centre of Excellence for Coral Reef Studies. He completed his PhD at the University of Auckland in New Zealand and spent periods at the Universities of Melbourne, Sydney and Auckland before moving to James Cook University. He was awarded a Chair in 2006. He is one of the world's most cited authors in the fields of coral reef ecology and marine conservation biology, with over 160 refereed scientific publications in peer-reviewed journals and books.
His special interests are in the processes determining the structure and dynamics of reef fish populations, and strategies to reduce human impacts on threatened fish species. In 1995, he began to develop new approaches to determine the fate of reef fish larvae, which until that time had remained a mystery. Jones and collaborators were the first to tag and recapture marine fish larvae. He has since become a world leader in the field of marine population connectivity and its implications for the ecology, conservation and management of reef fish populations.
His recent studies in the understanding of local population connectivity demonstrate the benefits of marine reserve networks for reef fish conservation and sustainable harvesting.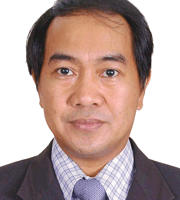 Jamaluddin Jompa
Hasanuddin University, Indonesia
Scientific and Management Challenges in Conserving the Reefs in the Coral Triangle Region: Lessons Learnt from Indonesia
Jamaluddin Jompa is a Professor and Director of the Center for Coral Reef Research at Hasanuddin University in Makassar, Indonesia.
He is one of Indonesia's prominent coral reef scientists and in 2007 established the Indonesian Coral Reef Society of which he is currently the Secretary.
In addition to conducting research on coral reef ecology and management, especially in Eastern Indonesia, he has also been involved in helping the Indonesian Government as the Executive Secretary of one of the biggest coral reef management projects, the Coral Reef Rehabilitation and Management Program (COREMAP II).
In the last 3 years, Jompa has also played important roles in the Coral Triangle Initiative (CTI) at both national and regional levels.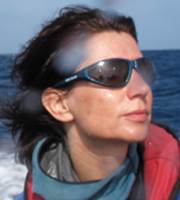 Madeleine van Oppen
Australian Institute of Marine Science, Australia
Can Old Corals Learn New Tricks?
Madeleine van Oppen is the Director of the Centre for Marine Microbiology and Genetics at the Australian Institute of Marine Science. She was trained in marine (molecular) ecology in the Netherlands. After having studied zooplankton communities and herbivorous coral reef fish (MSc), cold-water seaweeds (PhD in the Netherlands), and African cichlid fishes (postdoc in the UK), she started her research on reef corals in 1997 at James Cook University, Australia. In 2001 she moved to the Australian Institute of Marine Science, where she is a principal research scientist leading a program on the genetics/genomics of adaptation/acclimatisation and resilience of corals to climate change. She has authored over 90 peer reviewed journal articles.
Van Oppen has recently expanded her research program to include the development of genetic tools for certain coral reef management strategies and an assessment of the impacts and likely success of these management strategies (e.g., introduction of beneficial alleles into certain populations through translocation of corals harbouring such alleles).
In 2011 van Oppen was awarded a prestigious Australian Research Council Future Fellowship to study coral-associated viruses.
| | |
| --- | --- |
| | The Queensland Government sponsorship is funded by the Department of the Premier and Cabinet; Department of Employment, Economic Development and Innovation; Department of Education and Training; Department of Environment and Resource Management, and Department of Transport and Main Roads. |