Field trip bookings are now closed
The tradition of the International Coral Reef Symposium is to offer Scientific Field Trips as they provide participants with a better understanding of the biology and geology of coral reefs in the region where the Symposium is being hosted.
In 2012, ICRS delegates and their accompanying partners will be spoilt for choice with multiple trip offerings both before and after the Symposium that are centred on the spectacular Great Barrier Reef.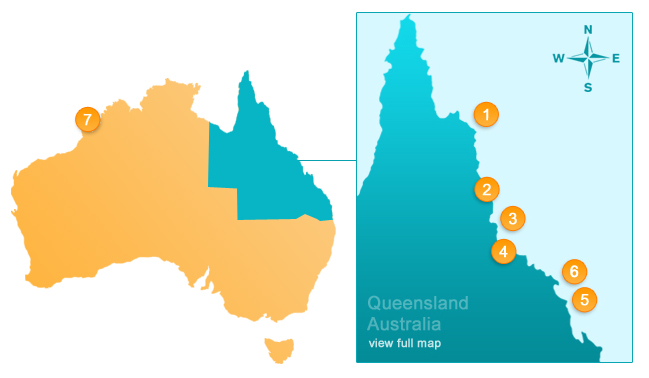 Each trip will offer a different experience but all will provide insights into management, marine protected areas, the effect of recent cyclones, or techniques to restore coral reef habitats.
For those who are not scuba divers or snorkelers, there is a land-based tour to Townsville to visit the Museum of Tropical Queensland, Reef HQ Aquarium, the Australian Institute of Marine Science and the World Heritage Listed Magnetic Island.
Click on the below field trip links to learn more about the trip you are interested in.
Description
Dates in 2012
Price per person (AUD)
Field Trip 1
Lizard Island Research Station
30 June – 4 July
4 – 8 July
14 – 18 July
18 – 22 July
$2,250
$2,250
$2,000
$2,000
Field Trip 2
Escorted Reef Trip with Marine Park Field Managers
7 July
14 July
$150 – $200
Field Trip 3
Orpheus Island Research Station
5 – 8 July
17 – 20 July
$1,650
Field Trip 4
Townsville Highlights
13 – 15 July
$759
Field Trip 5
One Tree Island Research Station via Heron Island
2 – 6 July
$2,000
Field Trip 6
Heron Island Research Station
14 – 18 July
$1,400
Field Trip 7
Kimberley Marine Research Station
4 – 7 July
$1,200
Please also read these Terms and Conditions.
Field trip bookings are now being taken. Complete your booking either:
Online or
Print, complete and return a hard copy of the registration form by fax or mail to:

ICRS 2012 Secretariat
PO Box 3599
South Brisbane QLD 4101
AUSTRALIA
Fax: +61 (0) 7 3255 1004